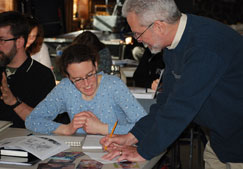 Our Mission: To bring people to Jesus Christ through the visual storytelling media of comics
• COMIX35 is a unique ministry helping Christian communicators around the world to spread the Gospel through the world's most widely read form of popular literature: COMICS ("Visual Storytelling" literature).
• COMIX35 offers Christian comics consulting, coaching and classes internationally. We help Christians create their own evangelistic stories and messages, in their own languages, as part of an evangelism strategy and/or discipleship program for their own people.
• COMIX35 has held over 40 Christian comics teaching events for over 900 attendees representing 52 countries across Asia, Europe, Africa, the Middle East, and the Americas.
• COMIX35 has partnered with top Christian organizations across the globe for over 20 years.
• COMIX35 (ROX35 Media, Inc.) is a US-based 501(c)3 nondenominational non-profit organized in 1996.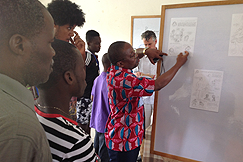 Additional Information: