The Québecois (people of Québec) literally kicked God out of their culture in the '60s. The Christian remnant there call it "The Silent Revolution."
Now Québec has the lowest rate of church attendance in North America; the highest percentages for divorce, abortion, cohabiting couples, and out-of-wedlock births in Canada; and the highest suicide rate in Canada (also one of the highest rates in the industrialized world.)
Outreach Canada, a church-planting and church-growth ministry, has labeled the Québecois as "the most unreached people group in North America."
As with all the other Francophone cultures, the Québecois love their BD (pronounced "bay-day," and short for "bande dessinée," the French term for "comics").
COMIX35 is working with Christian Québecois individuals and ministries to produce French-language comics – by the Québecois, for the Québecois – to reach the hurting, empty hearts of these lost people who are loved by our LORD Jesus Christ.
2016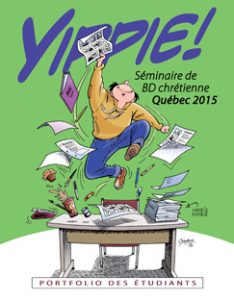 In partnership with White Comics, Bon Samaritain/Editions SAMY, and Les Imprimés Shefford, COMIX35 helped produce a 40-page black & white comic anthology featuring the class work of our students from the December 2015 seminar.
The new comic, entitled Yippie! (cover by Denis Grenier shown right), made its debut at the Salon du Livre Chrétien in Montréal on 4 June.
More Information
2015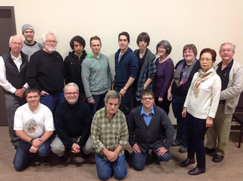 In December, COMIX35 held a comics seminar & workshop in Montreal, QC, from Monday December 7th to Friday the 11th, in partnership with White Comics and Le Séminaire Évangélique Baptiste du Québec (SEMBEQ).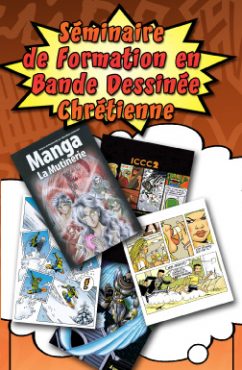 The international teaching team, from Asia and North America, were Ryo Azumi, Eric LeBlanc, Denis Grenier, and Nate Butler. (Scheduled teacher Benjamin Kouadio from Côte d'Ivoire had visa issues at the last minute and couldn't join us in-person. He was able to meet and greet the class one afternoon during the week via Skype.)
Yves Beaudin, the Regional Manager of "My Hope QC" for Billy Graham Evangelistic Association of Canada, was also a presenter.
Donald Tardif, Director of Ligue pour la lecture de la Bible, and François Turcotte, Deputy Managing Director and Director of Studies for SEMBEQ, both shared inspiring morning devotionals during the week.
Despite strong spiritual opposition, both before and during the seminar, including the loss of an important teacher, the 5-day seminar went extremely well and was a great blessing to all in attendance.
Lord willing, SEMBEQ will host another COMIX35 seminar in the future.
2013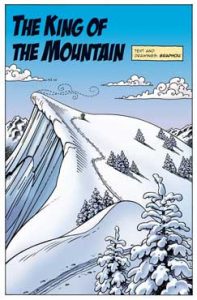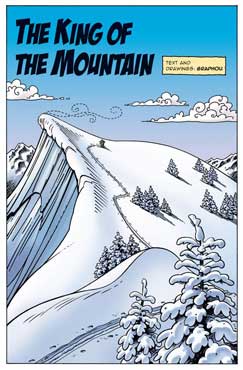 One of our original goals for our April 2011 seminar had been to publish a comic by a student. One of our seminar attendees, Denis Grenier, completed a script about a snowboarder who comes to know Jesus Christ. He read it to the class who responded enthusiastically.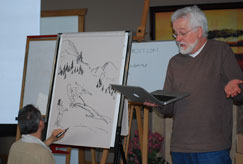 However, the comic was not completed in class and for two years after the seminar, we never heard anything more about it. We resigned ourselves to the thought that we might never see it in print.
In June 2013 Nate Butler of COMIX35, and his wife Renée, met with Bon Samaritain/Editions SAMY in Saint-Georges to discuss possible publishing projects for Québec.
Very shortly after that meeting, Denis surprised us with beautifully finished black & white artwork for that tract he had written in class.
Immediately we contacted Bon Samaritain/Editions SAMY, and we partnered to produce this eight-page tract entitled "Le Roi de la Montagne" ("The King of the Mountain").
In The LORD's perfect timing, the tract was completed in August, just in time for free distribution at the 2013 Canada Summer Games in Québec. This is the largest multi-sport competition in the country!
Yves Bellemare of Bon Samaritain reported that, "People were very receptive … Young people as well as older ones. Smiles were very frequent after they read the story. We had a few conversations with people, and it was always positive."
During this time we held discussions with Bon Samaritain about possible comics seminars in Saint-Georges.
2011
In April 2011, COMIX35 held a three-day + one-evening Christian comics seminar in Lac-Brome, QC, in partnership with Église de la Victoire du Québec (EVQ Media).
Of the 21 participants, most were from Québec, with 1 person coming from Alberta and 3 from the Ottawa area.
The teachers were Eric Leblanc, Didier Millotte, Lisa Hutchinson, and Nate Butler. Swiss cartoonist Alain Auderset was an additional speaker and student coach.
Arrangements for the seminar were made by Martine Blanchette, Director of the Arts Department of EVQ, and her team members, Josée and Stéphane Perrier and Melissa Duguay.
Donald Tardif, Director of Ligue pour la lecture de la Bible (the French version of Scripture Union) in Québec made a special trip from Montréal one morning to do a devotional.
The seminar was one of the very best we had held in our 15 years of ministry up to that time. The LORD blessed our hours together in so many ways, and everyone was amazed and impressed – students, faculty, and hosts. EVQ reported that "…all agreed it was a real success! The high quality lessons, bubbling creativity, thirst to learn and the desire to share the spirit of unity, fellowship and the undeniable presence of our Lord were the essential elements to make this event unique and memorable."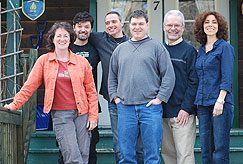 Additional feedback from Québec seminar attendees (most in French) may be found here.
For COMIX35 it was incredibly satisfying to see our 7+ years of working and waiting turn out so well.
The following September Nate Butler returned to do some seminar follow-up in both Granby and Saint-Georges. Team Effusion in Granby have since published their first comic, and Bon Samaritain in Saint-Georges launched their Editions Samy publishing house to produce Christian comics and illustrated books for kids and youth. At that time they asked Nate to be on their "committee of counselors."
Then, in 2013, there was additional fruit from the seminar (see above).
by Pat VanAntwerpen (past COMIX35 Board Member)
Years ago, when we first heard the sad story of the French-speaking Québecois people of Canada, our hearts melted. We were determined to help inspire French-language comics with a powerful "return to The LORD" message for the lost Québecois. COMIX35 President Nate Butler made an exploratory trip to the Montréal area in April 2004, but the door closed on holding one of our comics seminars in August 2005 with partners there.
In the years that followed we never forgot. We strategized and prayed for the Québecois at Board meetings. We wondered at God's timing, but never doubted the call to go and help Québecois Christians produce comics to reach their own people.
In 2010, The LORD suddenly opened the door to Québec for COMIX35. Nate Butler was able to coordinated the timing of his visit with the 23rd Annual French Language Comics Festival in Old Québec City ("Festival de la BD Francophone de Québec"). He was accompanied by Mexican comics creator José Carlos Gutierrez and Swiss cartoonist Alain Auderset.
COMIX35's goals were to renew connections, form new relationships/partnerships for future ministry work, and inspire locals to produce their own Christian comics for their own people. As our time in Québec unfolded, we saw God's grace in those years of waiting.
A number of important, new contacts were made. Perhaps the most significant came through Alain, who connected us with Martine Blanchette, Director of the Arts Department of EVQ (Église de la Victoire du Québec), a media ministry in Granby (Montréal area). Martine agreed to help us plan a seminar there, forging a new and ultimately successful pathway toward a Québec event.
Back in 2005 when the seminar we planned with our Montréal partners just couldn't get off the ground, we were deeply disappointed. How could God close the door on such a worthy project? Didn't Jesus weep for the Québecois? Days, months, years passed. We prayed, our Board, staff, and prayer partners, stubbornly and methodically. Then, one day, the right partners were in place. The day had come, as had the resources. The door opened with no power of our own. We stepped in, in Christ's name, to claim territory for His Eternal Kingdom. It was good. God exalts Himself in His timing, His guidance and His grace.
Merci, Jésus !